WISE Program will co-organize "Indonesia-Japan Forest Talk 2022".
Mr. Rasis Putra Litonga, a WISE student (United Grad School of Agricultural Scicenc, D3), has proposed a symposium in cooperation with the Indonesian-Japanese Forest and Wood Association (MIDORI*), of which he is a founding member, the Embassy of Indonesia in Japan, and the Ministry of Forestry and Environment of Indonesia.
The main event will be a symposium to exchange views and opinions on the future of forestry and forestry research in Japan and Indonesia, and human resource development related to them, among the people concerned and young generation.
The TUAT-WISE Program will co-host this student project with MIDORI, in cooperation with TUAT and the Institute of Agriculture of TUAT.
"Indonesia-Japan Forest Talk 2022"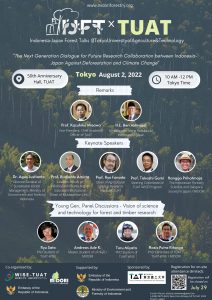 ■ Date: Tuesday, August 2, 2022, 10:00-12:10
■ Place: Fuchu 50th Anniversary Hall (Tentative)
■ Schedule (tentative)
 10:00-10:05 Opening Remarks / Kazuhiko Misawa, Vice-President, Chief Academic Officer
 10:05-10:10 Greeting from the representative of the Indonesian delegation
 10:10-10:40 Presentation from Indonesia
           – Agus Justianto, Director General, Sustainable Forest Management, Ministry of Environment and Forestry Indonesia
        – Rudianto Amirta Dean of Faculty of Forestry, Mulawarman University; Representative, Consortium of Deans of Higher Education in Indonesia
 10:40-11:05 Presentation from TUAT
     – Ryo Funada, Dean, Graduate School of Agriculture
     – Takashi Gomi, Prof. of Graduate of Agriculture; Steering Committee Member of TUAT-WISE
 11:05-11:15 Presentation from MIDORI
 11:15-11:20 Break
 11:20-11:25 Introduction of TUAT-WISE Program / Naoko Ohtsu, Director of TUAT-WISE Program
    11:25-12:05 Panel Discussion
          "Future vision of Science and Technology for Forest and Timber Research"
              (Tentative topics)
         – Remote Sensing-based application: Rasis Putra Ritonga (United Graduate School of Agricultural Sciences, TUAT-WISE)
         – Wood utilization and its characteristics: Andreas Ade (Graduate School of Agricultural and Life Sciences, The University of Tokyo; MIDORI)
         – Diverse utilization of cellulose: Ryu Sato (Graduate School of Bio-Applications and Systems Sciences, TUAT-WISE)
         – Blue Cabon and Green Carbon: Toru Miyata (United Graduate School of Agricultural Sciences, TUAT-WISE)
          Commentator: Yoshiki Horikawa, Assoc. Prof. of Graduate of Agricultural Science   
        Panel Coordinator: Takashi Gomi
   12:05 – 12:10 Closing Remarks / Makoto Yoshida, Vice President for International Affairs